I absolutely love this Vintage Child's toy Essex miniature sewing machine, not be mistaken with the Singer SewHandy 20 (pictured below), which is very similar: both thread up and operate in the same way.
Singer SewHandy 20
Essex Miniature Sewing Machine:
The machines were made from cast iron, highly engineered and of good quality, standing the test of time. They produce a fine chain stitch.
The design is such that I think they have all sorts of different uses from: –
A really interesting ornament for your study or office, man cave and she den
A collectible for all you sewing bees out there, and
A sewing machine!
You can actually use it for its original purpose. I taught my 8-year old niece to sew using one of these Essex sewing machines. Initially more interested in playing computer games on her tablet, she loved it and is now pestering for a full size electric machine: I think her parents may have fallen out with me!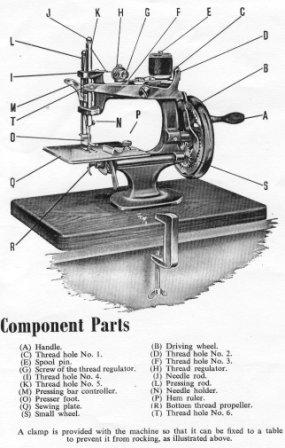 All of these sewing machines came in a maroon colour and sat on a wooden plinth. A second wooden work plinth slots in to the sewing plate to extend the working surface.
 Post WWII Sewing Machine Revival
They were manufactured between 1946 and 1956 by the Essex Engineering Works, Wanstead, London. We see them today as a child's toy but they were actually produced to fill a need in the market, after WWII, for making and repairing clothing. Rationing was in full force and people were still in the mindset, through necessity, of 'Make Do and Mend'.
There was a sewing machine shortage, as engineering companies had been diverted from manufacturing their normal range of products to supporting the war effort. Sewing machines had also been commandeered to support the war effort from making military clothing to parachutes!
Most families were still using the treadle or hand cranked singer sewing machines. I still remember my late Granny's faithful treadle Singer, (many years after WWII may I add!), which she couldn't part with but she would have loved one of these miniature machines for those smaller jobs.
In the 1950s they cost a weeks' wages, (approximately £500 in today's money) which, in post WWII Britain, was a huge investment and out of the reach of most families!
Essex Engineering Works
Essex Engineering Works was founded in 1935 by Horace Allen, and is still a second and third generation family run business. It is based in Wanstead, London, opposite Wanstead Hospital which, apparently, was used as one of the film locations for St Swithins in the 1954 film Doctor in the House.
The company originally was a repair shop for one-armed-bandits. During WWII it turned to manufacturing gun parts, and precision tools and gauges. After the war it moved to produce a small sewing machine to meet the UK's growing need. The miniature machine was produced in 1946 and comprises ~ 30 working parts: all of which were produced at the factory in Wanstead. 150,000 sewing machines were produced in 10 years of manufacture.
The company ceased manufacture of the miniature sewing machine in 1956 due to increasing competition from the Japanese, whom flooded the market with heavily subsidised imports. Undeterred, the innovative Essex Engineering company changed tack and, to date, have produced over 1.2 million coin slide mechanisms.
Click on the following link for more blogs like this one!